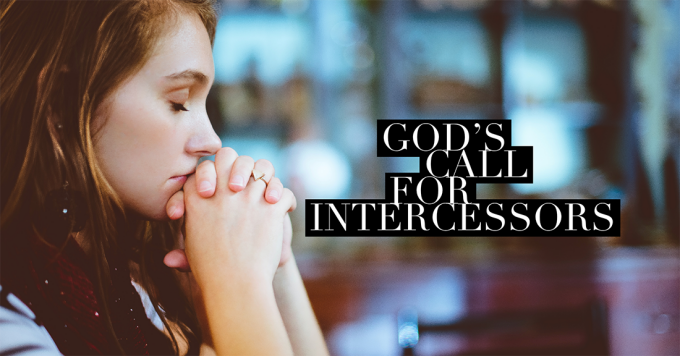 He saw that there was no man, And wondered that there was no intercessor; Therefore His own arm brought salvation for Him; And His own righteousness, it sustained Him. (Isaiah 59:16 NKJV)
Intercessory prayer is a command from God to all believers. It is a ministry in which every believer should participate, and one that is so necessary in our world today. When Christians fail to pray and intercede, we disobey God, we don't support all the people and places God wants us to support, we don't want God interfering, and we ignore the costly, divine privilege to enter God's presence that was purchased for us by the death of Jesus on the cross.
As for me, far be it from me that I should sin against the Lord by failing to pray for you. And I will teach you the way that is good and right (I Samuel 12:23).
Pray continually (I Thessalonians 5:17).
Our battle is to bring down every deceptive fantasy and every imposing defense that men erect against the true knowledge of God. We even fight to capture every thought until it acknowledges the authority of Christ (2 Corinthians 10:5, Phillips).
And pray in the Spirit on all occasions with all kinds of prayers and requests. With this in mind, be alert and always keep on praying for all the saints (Ephesians 6:18).
God gives us many examples of intercessory prayer throughout the Bible. Abraham interceded in Lot's behalf for the towns of Sodom and Gomorrah (Genesis 18:22-26). In Genesis 25:21, Isaac prayed for his wife Rebekah. When the Israelites engaged in idolatry and worshiped the golden calf in Exodus 32, Moses pleaded with God to turn from His fierce anger toward them. Hezekiah prayed for his people in 2 Chronicles 30:18-20, and God heard and healed the people. In Luke 23:34, Jesus prayed "Father, forgive them" for those who crucified Him. In John 17, Jesus prayed for His disciples and for all believers. The church earnestly prayed for Peter because he was in prison (Acts 12:5). In his writings, Paul prayed for his brothers and sisters in Christ.
What exactly is meant by intercessory prayer? It is NOT about us! It is NOT a method we can use to persuade God to agree with us or do what we ask. It is also NOT a prayer of praise, a "thank you" to God for all the things He has provided, or a list of our needs (although all of these things should also be a part of our prayer time with God). Intercessory prayer IS our genuine appeal to God for someone or some place and for God's will in the life of this person or place. It IS a battle against the evil strongholds of Satan in people or places. God wants His people to "stand in the gap."
So he said he would destroy them—had not Moses, his chosen one, stood in the breach before him to keep his wrath from destroying them (Psalm 106:23)
We might wonder why we should intercede to a Sovereign God who has absolute power and control over everything. The short answer is that God's Word commands us to pray. A longer answer—intercessory prayer (and especially when it includes praying God's Word back to Him) brings us closer to God and deepens our knowledge of His holy Word; it places our focus on others rather than on ourselves; it creates a bond between us and the people, events, and places we pray for; it changes and enriches our lives; we become more aware of the faithfulness, power, and purpose of God; and, it lets us know without a doubt that prayer always makes a difference.
Intercessory prayer is hard work, but God does not abandon us to do this work in our own strength. We have God's Word, and we have the Holy Spirit as our advocate and guide (Romans 8:26) in this ministry of intercession. When Jesus was tempted by the devil in the wilderness, He answered with the Word of God. We, too, can pray God's Word back to Him as we intercede for others. Praying God's Word is a powerful form of intercession that is available to everyone—the young, middle-aged, and seniors as well as the experienced prayer warrior and/or the first-time intercessor. When the words won't come as fluently and perfectly as we want, or we are so stressed by a certain situation that we feel unable to pray, God's Word is available to calm our hearts, center us, and is always perfect for any prayer need.
There are so many ways God needs His people to intercede. We might be overwhelmed when we think of some of the ones we know—our world, our city, a wayward child or grandchild,
divorce, a difficult person, a demanding boss, job loss, a new job, chronic/severe illness, ungodly leaders, the pandemic, or evil and unrest in our country. Choose two or three needs in your area, write them down, put them in front of you daily, and pray diligently and persistently for them. "The earnest prayer of a righteous person has great power and produces wonderful results" (James 5:16).
There are so many Scriptures God has given to help us fulfill the ministry of intercession. Just imagine the response from God if ALL members of FBCW began to pray diligently for our church, our city, and our country! This week, let's get started with the three areas listed below (you might already be praying for these). With each area, various Scriptures are given that you might use. Search God's Word for other verses to strengthen your ministry of intercession. Pray God's Word back to Him in addition to other words the Holy Spirit gives you to pray.
1. Pray for God to raise up intercessors
How beautiful on the mountains are the feet of those who bring good news, who proclaim peace, who bring good tidings, who proclaim salvation, who say to Zion, Your God reigns (Isaiah 52:7). I have posted watchmen on your walls, O Jerusalem; they will never be silent day or night. You who call on the Lord, give yourselves no rest, and give Him no rest until He establishes Jerusalem and makes her the praise in the earth (Isaiah 62:6-7).
Devote yourselves to prayer, being watchful and thankful. And pray for us, too, that God may open a door for our message, so that we may proclaim the mystery of Christ, for which I am in chains (Colossians 4:2-3).
I urge, then, first of all, that requests, prayers, intercession and thanksgiving be made for everyone—for kings and all those in authority, that we may live peaceful and quiet lives in all godliness and holiness. This is good, and pleases God our Savior who wants all men to be saved and to come to a knowledge of the truth (I Timothy 2:1-4).
2. Pray for our church (Pastor, staff, members, ministries).
Then he said to his disciples, "The harvest is plentiful but the workers are few. Ask the Lord of the harvest, therefore, to send out workers into his harvest field" (Matthew (9:37-38). For this reason I kneel before the Father, from whom every family in heaven and on earth derives its name. I pray that out of his glorious riches he may strengthen you with power through his Spirit in your inner being, so that Christ may dwell in your hearts through faith. And I pray that you, being rooted and established in love, may have power, together with all the Lord's holy people, to grasp how wide and long and high and deep is the love of Christ, and to know this love that surpasses knowledge—that you may be filled to the measure of all the fullness of God. Now to him who is able to do immeasurably more than all we ask or imagine, according to his power that is at work within us, to him be glory in the church and in Christ Jesus throughout all generations, for ever and ever! Amen (Ephesians 3:14-21).
For this reason, since the day we heard about you, we have not stopped praying for you and asking God to fill you with the knowledge of his will through all spiritual wisdom and
understanding. And we pray this in order that you may live a life worthy of the Lord and may please him in every way: bearing fruit in every good work, growing in the knowledge of God, being strengthened with all power according to his glorious might so that you may have great endurance and patience, and joyfully giving thanks to the Father, who has qualified you to share in the inheritance of the saints in the kingdom of light (Colossians 1:9-12).
Preach the word; be prepared in season and out of season; correct, rebuke and encourage— with great patience and careful instruction (2 Timothy 4:2).
Each one should use whatever gift he has received to serve others, faithfully administering God's grace in its various forms. If anyone speaks, they should do it as one speaking the very words of God. If anyone serves, they should do so with the strength God provides, so that in all things God may be praised through Jesus Christ. To him be the glory and the power for ever and ever. Amen (I Peter 4:10-11).
3. Pray for our city and country.
If my people, who are called by my name, will humble themselves and pray and seek my face and turn from their wicked ways, then will I hear from heaven, and will forgive their sin and will heal their land (2 Chronicles 7:14).
Blessed is the nation whose God is the LORD, the people he chose for his inheritance (Psalm 33:12).
See, darkness covers the earth and thick darkness is over the peoples, but the Lord rises upon you and his glory appears over you. Nations will come to your light and kings to the brightness of your dawn (Isaiah 60:2-3).
Also, seek the peace and prosperity of the city to which I have carried you into exile. Pray to the LORD for it, because if it prospers, you too will prosper (Jeremiah 29:7).
O Lord, listen! O Lord, forgive! O Lord, hear and act! O my God, do not delay, because your city and your people bear your Name (Daniel 9:19).
Seven more intercessory prayer suggestions will be given next week. As stated, prayer is hard work but it pleases God and He asks us to do it. Let's ask for God's help to be diligent in prayer and intercede, intercede, intercede for the needs of our world.
Note: Unless otherwise noted, scripture references are from the New International Version
(NIV).