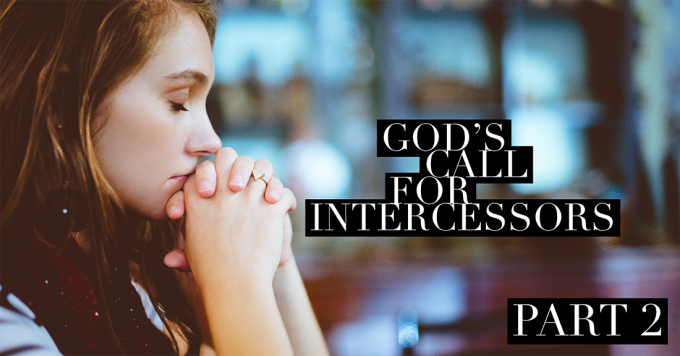 To read God's Call for Intercessors -Part 1 click HERE!
He saw that there was no man, And wondered that there was no intercessor; Therefore His own arm brought salvation for Him; And His own righteousness, it sustained Him.(Isaiah 59:16 NKJV)
Last week we shared God's command for all believers to be intercessors. For many of us, most of our prayers are for ourselves or our families and to become an intercessor is a definite challenge. Let's think of the times when we were so burdened that it was difficult to pray and others prayed for us. Remember the comfort and strength we received from those prayers. Now, let's be that person who can be depended upon to pray for others.
In addition to the three suggestions we gave last week to help us get started, we list below seven more areas along with Scripture suggestions we might use to pray back to God. As stated before, these Scripture references are only a few of the many, many verses God has given us. Search the Scriptures for others that may have more meaning for you or for the particular person or place for your intercessory prayer.
1. Pray for salvation of the lost.
Jesus answered, "I am the way and the truth and the life. No one comes to the Father except through me" (John 14:6)
Peter replied, "Repent and be baptized, every one of you, in the name of Jesus Christ for the forgiveness of your sins. And you will receive the gift of the Holy Spirit" (Acts 2:38).
Salvation is found in no one else, for there is no other name under heaven given to men by which we must be saved (Acts 4:12).
That if you confess with your mouth, "Jesus is Lord," and believe in your heart that God raised him from the dead, you will be saved. For it is with your heart that you believe and are justified and it is with your mouth that you confess and are saved (Romans 10: 9-10).
At one time we too were foolish, disobedient, deceived and enslaved by all kinds of passions and pleasures. We lived in malice and envy, being hated and hating one another. But when the kindness and love of God our Savior appeared, he saved us, not because of righteous things we had done, but because of his mercy. He saved us through the washing of rebirth and renewal by the Holy Spirit whom he poured out on us generously through Jesus Christ our Savior, so that having been justified by his grace, we might become heirs having the hope of eternal life (Titus 3:3-7).
2. Pray for guidance and wisdom for believers to live a godly life (yourself and others).
The Lord Himself goes before you and will be with you; He will never leave you nor forsake you. Do not be afraid; do not be discouraged (Deuteronomy 31:8)
I will instruct you and teach you in the way you should go; I will counsel you and watch over you (Psalm 32:8).
The Spirit of the Lord will rest on him—the Spirit of wisdom and of understanding, the Spirit of counsel and of power, the Spirit of knowledge and of the fear of the Lord (Isaiah 11:2).
Whether you turn to the right or to the left, your ears will hear a voice behind you, saying, "This is the way; walk in it" (Isaiah 30:21).
But when he, the Spirit of truth, comes, he will guide you into all truth. He will not speak on his own; he will speak only what he hears, and he will tell you what is yet to come (John 16:13).
3. Pray for your children, grandchildren and great-grandchildren.
The Lord bless you and keep you;
The Lord make His face shine upon you
And be gracious to you;
The Lord turn His face toward you
And give you peace (Numbers 6:24-26).
He who dwells in the shelter of the Most High will rest in the shadow of the Almighty. I will say of the LORD, "He is my refuge and my fortress, my God, in whom I trust" (Psalm 91:1-2)
May the LORD make you increase, both you and your children (Psalm 115:14).
I lift up my eyes to the hills—where does my help come from? My help comes from the LORD, the Maker of heaven and earth. He will not let your foot slip—he who watches over you will not slumber; indeed, he who watches over Israel will neither slumber nor sleep. The LORD watches over you—the LORD is your shade at your right hand; the sun will not harm you by day, nor the moon by night. The LORD will keep you from all harm—he will watch over your life; the LORD will watch over your coming and going both now and forevermore (Psalm 121).
Trust in the Lord with all your heart, and lean not on your own understanding; in all your ways acknowledge Him, and He will make your paths straight (Proverbs 3:5-6).
4. Pray for those going through difficult times.
But I will sing of your strength, in the morning I will sing of your love; for you are my fortress, my refuge in times of trouble. O my Strength, I sing praise to you; you, O God are my fortress, my loving God (Psalm 59:16-17).
So do not fear, for I am with you; do not be dismayed, for I am your God. I will strengthen you and help you; I will uphold you with my righteous right hand. All who rage against you will surely be ashamed and disgraced; those who oppose you will be as nothing and perish. Though you search for your enemies, you will not find them. Those who wage war against you will be as nothing at all. For I am the Lord, your God, who takes hold of your right hand and says to you, Do not fear; I will help you (Isaiah 41:10-13)
"For I know the plans I have for you," declares the Lord, "plans to prosper you and not to harm you, plans to give you hope and a future (Jeremiah 29:11).
Ah, Sovereign Lord, you have made the heavens and the earth by your great power and outstretched arm. Nothing is too hard for You (Jeremiah 32:17)
The Lord is good, a refuge in times of trouble. He cares for those who trust in Him (Nahum 1:7)
5. Pray in times of danger
The angel of the Lord encamps around those who fear him, and he delivers them (Psalm 34:7)
The righteous cry out, and the Lord hears them; he delivers them from all their troubles. The Lord is close to the brokenhearted and saves those who are crushed in spirit. A righteous man may have many troubles, but the Lord delivers him from them all (Psalm 34:17-19)
My flesh and my heart may fail, but God is the strength of my heart and my portion forever (Psalm 73:26).
When I said, "My foot is slipping," your love, O Lord, supported me. When anxiety was great within me, your consolation brought joy to my soul (Psalm 94:18-19).
Out of the depths I cry to you, O Lord; O Lord, hear my voice. Let your ears be attentive to my cry for mercy (Psalm 130:1-2)
You will keep in perfect peace him whose mind is steadfast, because he trusts in you. Trust in the Lord forever, for the Lord, the Lord, is the Rock eternal (Isaiah 26:3-4).
6. Pray in times of bereavement
The Lord is my rock, my fortress and my deliverer; my God is my rock, in whom I take refuge (Psalm 18:2).
The Lord is close to the brokenhearted and saves those who are crushed in spirit (Psalm 34:18).
Come to me, all you who are weary and burdened, and I will give you rest. Take my yoke upon you and learn from me, for I am gentle and humble in heart, and you will find rest for your souls. For my yoke is easy and my burden is light (Matthew 11:28-30).
May the God of hope fill you with all joy and peace as you trust in him, so that you may overflow with hope by the power of the Holy Spirit (Romans 15:13).
Cast all your anxiety on him because he cares for you (I Peter 5:7).
7. Pray when you don't know how or what to pray
Remember the former things, those of long ago; I am God, and there is no other; I am God, and there is none like me. I make known the end from the beginning, from ancient times, what is still to come. I say, 'My purpose will stand, and I will do all that I please.' (Isaiah 46:9-10)
But blessed is the man who trusts in the Lord, whose confidence is in him. He will be like a tree planted by the water that sends out its roots by the stream. It does not fear when heat comes; its leaves are always green. It has no worries in a year of drought and never fails to bear fruit (Jeremiah 17:7-8).
Peace I leave with you; my peace I give you. I do not give to you as the world gives. Do not let your hearts be troubled and do not be afraid. (John 14:27).
What, then, shall we say in response to this? If God is for us, who can be against us? He who did not spare his own Son, but gave him up for us all—how will he not also, along with him, graciously give us all things? (Romans 8:31-32)
And God is able to make all grace abound to you, so that in all things at all times, having all that you need, you will abound in every good work. (2 Corinthians 9:8)
Do not be anxious about anything, but in everything, by prayer and petition, with thanksgiving, present your requests to God. And the peace of God which transcends all understanding, will guard your hears and your minds in Christ Jesus. (Philippians 4:6-7)
Writing about prayer is never ending. You may or may not have found your favorite verses in these two articles because God gives special verses to each one of us. Take the verses God gives you and use them as you intercede in prayer for others. Expect to see the mighty hand of God as we "pray without ceasing."