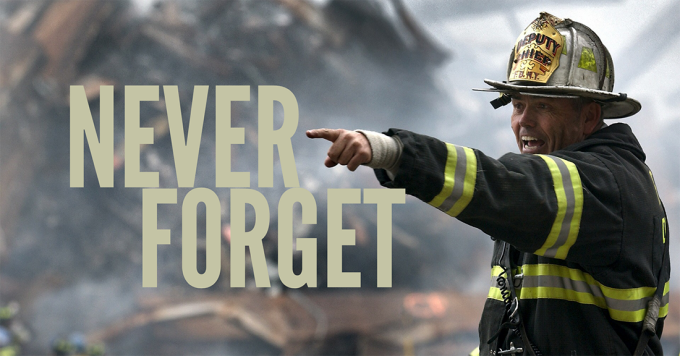 Never Forget: words that are uttered on this day as we remember the events of 9/11. It was one of those days, even for those of us not directly impacted, that is etched into our minds. Each of us that are old enough to remember has a memory of that day. What happened that morning as many of us were going about our day, just like any day, only to find ourselves shocked by what had taken place with a permanent reminder etched into our minds.
For me, that memory takes me back to my college campus. I had an early class that morning. After the class wrapped up and I was walking across the campus I recall kind of an eerie calmness about the campus. During a time when I was accustomed to seeing more people moving about the campus I saw very few. I made my way to the Student Activity Center where my first memory is of a lounge area where hundreds of people where gathered around some large screen televisions. While it was normal to see some people sitting, studying, watching TV, working on a laptop in that area…it was very odd to see hundreds in almost total unity focused on what was taking place on the TV screens. It was in the moments that followed that I was swallowed up by the moment as I too realized what was transpiring at the World Trade Center buildings. While my cell phone didn't work and I was shocked by the events as they unfolded before my eyes, I cannot say I felt the emotion of the day as those who had loved ones in those Towers, be it people working there or first responders trying to save lives. Yet, even for someone who was really just a distant observer to such an infamous event in our nation's history, I felt a heaviness and still do for the loss of life that we remember to this day.
There are so many stories to be told, so many lives sacrificed that day and so many lives changed that day. In the weeks that followed, churches were packed with people looking for answers, trying to make sense of the incredible devastation and trying to come to grips with the realization that the United States is not invincible. Of all the stories I've heard, the stories of extreme courage and bravery exhibited by the first responders on that day seem to stick out above the rest. While thousands of people were rushing down stairs in fear of their lives, almost every account speaks of first responders running against the crowd up those same steps. Each of them rushing towards the risk instead of away from it. Many of which we honor today because they died that day in the collapse of the buildings. Even beyond that, years later some of the men and women that were on site that day, covered in dust and debris, trying to save lives, are developing breathing related illnesses and cancers that are leading to their premature death.
Their example on that day in particular and honestly every other day they rush to help people in dangerous situations is something that challenges me. I think about what God has called us to do as Christians...to "go and make disciples of all nations, baptizing them in the name of the Father and of the Son and of the Holy Spirit, and teaching them to obey everything I have commanded you." Every day thousands…millions…billions of people are in dire need of saving. Their life is at risk, the fires of sin burn around them and at any moment the building of their life could collapse. Am I willing to be the first responder in their life that rushes in and brings to them lifesaving help?
For many of the firefighters, police officers, paramedics that responded that day, they mustered a courage and bravery that pales in comparison to what we as Christians have access to. I can't help but think about Acts 1:8 where it references "you will receive power when the Holy Spirit has come upon you, and you will be my witnesses". Countless times throughout the Bible God tells us to be courageous, not to fear…
Be strong and courageous. Do not be afraid or terrified because of them, for the LORD your God goes with you; he will never leave you nor forsake you. - Deuteronomy 31:6
The LORD is my light and my salvation— whom shall I fear? The LORD is the stronghold of my life— of whom shall I be afraid? – Psalm 27:1
Be on your guard; stand firm in the faith; be courageous; be strong. – 1 Corinthians 16:13
Finally, be strong in the Lord and in his mighty power. – Ephesians 6:10
The list goes on and on. We have the ability as Christians to go courageously into the world with the strength of the Lord to be His witnesses. The incredible acts of courage on display on 9/11 are worth remembering. The lives saved that day as a result of their sacrifice are worth honoring. Let us not forget that the courage they boldly lived out that day going into buildings on fire and on the verge of collapse is but a sliver of the power and courage God can provide each one of us willing to obey Him and be His witnesses. Honor those who lost their lives that day, remember the lives that were lost…but NEVER FORGET to take inspiration in their courage knowing that you…through the power of the Holy Spirit…can do far greater things for Christ!