Brendan Troost - College & Career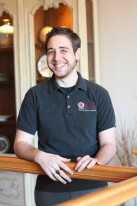 This class is currently meeting in room 222. Please click the "Email The Leader" for to contact Brendan.

I've been serving the Lord as a missionary with Child Evangelism Fellowship for 10 years and have been a missionary since I was saved at the age of 16. I'm just a broken guy, living in a broken world but I am very thankful for all the family here at FBCW who guide people to the One who can fix our brokenness. I'm excited to be leading a Sunday School with a team of fantastic men and women who are sure to make it a spiritually refreshing and awesome time. We look forward to meeting all the college and career-aged people each morning at 9:30 am.
Group Details