Trivia Night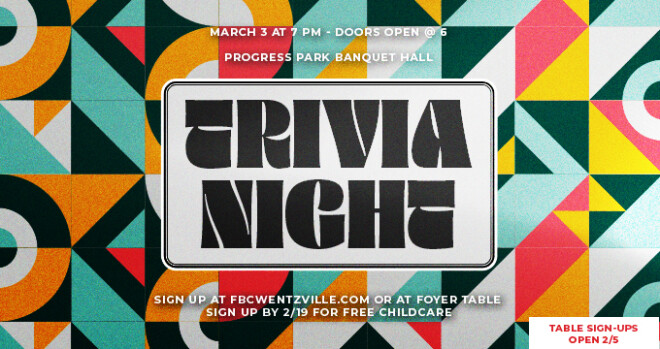 Friday, March 03, 2023, 6:00 PM - 10:00 PM
Everyone is invited to a fun night of trivia!! Gather 8 people and pick a theme! You may decorate your table and even dress up for the theme. Our friend, Rayden Hollis will be our emcee for the night!
The event will be held on March 3 at the Progress Park Banquet Hall. Doors will open at 6:00 p.m. to decorate and set up. Trivia will begin at 7:00 p.m. Bring your own snacks and drinks will be provided. Alcohol not permitted.
There are 23 tables available with 8 seats at each. Sign up on Sundays at the foyer table (starting on 2/5). You must register all 8 participants to reserve a table OR you may sign up individually as well.
Childcare is available for kids elementary age and under, but reservations are limited, and must be completed by February 19. Drop off is at 5:45 p.m. at FBCW and pick up is 10:15 p.m.