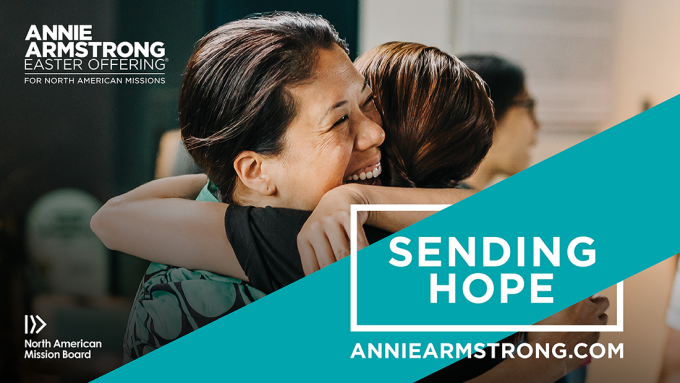 The Annie Armstrong Easter offering is part of the North American Mission Board annual campaign to support more than 5,000 missionaries serving in the United States, Canada and U.S. territories of Puerto Rico, Virgin Islands, Guam, and American Samoa. That encompasses some 363 million people, who speak 350 languages.
It is estimated that more than 75 percent of those people are lost.
That is why missionaries Matt and Arrica Hess from Northwest Mississippi are serving in Toronto, Canada. Here is his story:
In 2010, I was serving as pastor to a rural church in Northwest, Mississippi just outside of Memphis, TN and completing my final year of seminary as well. God was saving people in the church, we were seeing growth, and we were leading quite comfortable lives. But suddenly, my wife Arrica and I began to sense that God was calling us to something new. As we sought the Lord through prayer and fasting, we knew our hearts were being pulled towards church planting. But of course the question was where?
That question weighed on our hearts heavily for several weeks. And then one day as I sat in seminary chapel, I heard a clear and distinct calling from the Lord. The preacher was talking about the need to plant churches in difficult regions around North America. He mentioned Seattle, Los Angeles, New York City, and then finally he said there was a need to plant churches in Canada. Now I'd never visited Canada and I knew nothing about Canada but in that moment the words of Isaiah 6:8 rang crystal clear in my ears and in my heart! "Then I heard the voice of the Lord saying, "Whom shall I send? And who will go for us?" And I said, "Here am I. Send me!" In that moment I knew we had received our orders.
Who's Jesus?
There are fewer places in North America more different than Memphis, TN and Toronto, ON. Around the world Memphis is known as "Home of the blues.", Elvis Presley's Graceland, and yeah you can find some pretty decent barbecue around those parts as well. While the Greater Toronto Area is known for its incredible multiculturalism, beautiful and clean architecture, and of course Canada's national sport, hockey. However, we quickly discovered that the spiritual climate was quite contrasting as well. We went from serving in the most churched state in the Southern Baptist Convention, Mississippi where there is 1 church for every 1,395 people to one of the least churched regions of North America with 1 church for every 117,000 people.
I'll never forget one day while going door to door and sharing the Gospel we asked a young teen around 14 years old what he thought about Jesus? He replied, "Who's Jesus?" I said, "you know Jesus Christ from the Bible". He said he had never heard of Him. Afterwards, we realized that we could no longer assume that our new friends and neighbors were familiar with the Christian faith. But what we once viewed as obstacles, the Holy Spirit has turned into opportunities to make stronger disciples! We now think in steps. As a church we communicate "next steps" very clearly. We simply want to invite our community into taking one step closer to exploring who Jesus truly is. When we shifted our frame of mind into journeying with people regardless where they are on their path towards Christ, we began seeing God move in some amazing ways!
Of course you can't do it!
One night, shortly after we had moved to Canada, we put the kids to bed, and Arrica and I settled in to relax and read. I was reading a book on church planting. In the book the author suggested that you should have a core group of at least fifty people before you start a church. My heart was immediately filled with anxiety. Our core group consisted of five people all from the same family…mine! And we hadn't even taught our toddlers how to tithe yet. We were in trouble! Where would the money come from? How would we reach this vast community for Christ? Where would we meet for worship? Would anyone come?
The next morning I woke up early and went downstairs to our basement to pray. As I quieted my heart before the Lord all I could utter were five words, "God, I can't do this." Truth is, I didn't know a thing about planting a church. Sure, our sending church First Baptist Church in Collierville, TN defines what a sending church should be about and had done a great job preparing us in our residency program. But the reality is, nothing can genuinely prepare the church planter for the difficult realities awaiting for him and his family once on the field.
As I spoke those words to the Lord, the Holy Spirit recalled a verse that we try to live our lives by found in John 15:5, "I am the vine; you are the branches. If you remain in me and I in you, you will bear much fruit; apart from me you can do nothing." It's as if the Lord was saying, "Of course you can't plant this church…but I can." And when I gave up, that's when God showed up.
We launched Fellowship Pickering in October 2013 and by the grace of God we have started two additional churches. Fellowship Church Rouge Park in 2015 and Fellowship Oshawa in the fall of 2016. We have seen over 100 baptisms, the beginnings of a church planting network on the East side of Toronto, seventy percent of Fellowship Pickering's congregation comes from an unchurched background, and multiple lives impacted by the Gospel all for the glory of God. And the best part? We believe He's only getting started!
Weakness equals strength.
We have learned some things about planting churches over the past few years but in return, planting churches has taught us much more. The Holy Spirit revealed idols in my heart that had to be uprooted for God to use me more effectively. I have learned that success can look like an overflowing worship service on Sunday morning but more likely in our context it looks like a one on one conversation with the spiritually curious on a Saturday afternoon at a soccer field. And most importantly, we have learned much about the character of God. Specifically, that He delights in using the weak. That "He opposes the proud but honours the humble." He always has, and He always will. You see it wasn't until I realized that our calling to plant churches had nothing to do with my ability and everything to do with His that He began to work in ways we never dreamt possible. May God keep us weak and fill us with His strength, in order for His Kingdom to advance!
"Fellowship Pickering launched in October 2013 and by the grace of God we have sent out two more gifted planters and their families along with a core group from Fellowship Pickering. Pastor Kesavan Balasingham and wife Viji started Fellowship Church Rouge Park which launched in 2015. While Pastor Jared Huntley and wife Jennifer started Fellowship Oshawa in the fall of 2016. We have seen over 100 baptisms, the beginnings of a church planting network on the East side of Toronto, seventy percent of Fellowship Pickering's congregation comes from an unchurched background, and multiple lives impacted by the Gospel all for the glory of God. And the best part? We believe He's only getting started!"
Hess, Matt. "Here Am I!" Send Me!" Annie Armstrong, North American Mission Board, 2017, https://www.anniearmstrong.com/here-am-i-send-me/