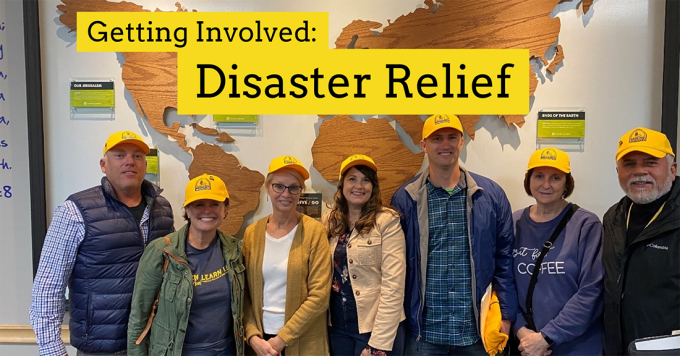 That late spring Sunday afternoon was probably like most. Nothing special. But when the sirens sounded on May 22, 2011, the people of Joplin had no idea of what was coming their way. The Joplin tornado stands as the most powerful tornado ever recorded. Reaching a width of nearly one mile, with winds in excess of 200mph, leaving a trail of more than 160 people dead, and damages in excess of $3 billion, it was also the costliest in history. How do survivors of such a traumatic event recover and move forward?
The Southern Baptist Disaster Relief (SBDR) has teams across the country, of which, Missouri Baptist Disaster Relief is a part. The organization works with several agencies including the Federal Emergency Management Agency (FEMA), The American Red Cross (ARC), and state and local first responders to help the community rebuild and the people recover. SBDR team members are well recognized by their distinctive yellow hats and shirts.
You may ask, "how, specifically, do they do that?" I'm glad you asked.
The list of jobs is long, but let me list a few and provide some details:
Food preparation and distribution. Cook, hand out, clean up and start again.
Chainsaw crews clear trees and other major obstacles after tornados, hurricanes, floods.
Clean-up teams help homeowners salvage and clean-up after fires, tornadoes, hurricanes, floods, etc.
Communication teams provide communication tools where radio and cell phones are inoperable. The bring in their own equipment to provide team communication.
Chaplain and Crisis Intervention provides spiritual care for the devastated survivors.
Crisis Closet provides clothing and other essential items in the aftermath of a disaster
Damage Assessment provides a preliminary assessment of the extent of damage, number of homes and businesses affected and so on.
Emergency Medical personnel often work with other qualified emergency response units.
Mud-out teams assist in the removal of mud and other debris following a flood. This includes washing, sanitizing, and removing contaminated material.
Reconstruction teams rebuild and make permanent repairs to churches, homes, and other building affected by the disaster.
Shower and Laundry team provides water for showers and laundry for the team
Water Purification is provided by a unit that can purify large amounts of water
Shelter Care provide emergency shelter for displaced survivors.
And there are many more tasks that need to be filled. You could probably do it yourself if you stopped to think about it!
But like all things that require cross functional coordination and teaming, training is required. To be credentialed, you must be 18 years old. See the picture of the seven-member team our church to be certified or recertified on Oct 2-3.
Training began on a Friday night and was complete Saturday afternoon. Specific training is provided for the various skills needed. For example, at this event in Saint Louis, training in mass feeding, chainsaw, flood recovery, communications, shower/laundry, child care, were a few of the several classes offered. Once trained, the individual receives their yellow hat and shirt, and does not need to be recertified for five years.
MO Baptist Disaster Relief provides training around the state four times a year, but with eight regions to cover, it only comes to our region of the state every two years. So next time it is in our area, GO!
Natural disasters are not scheduled, but we can plan for them. We must prepare and be ready before that need arises. If this is something that is of interest to you, contact Glen Locklear at 636.327.8696 or email him at .