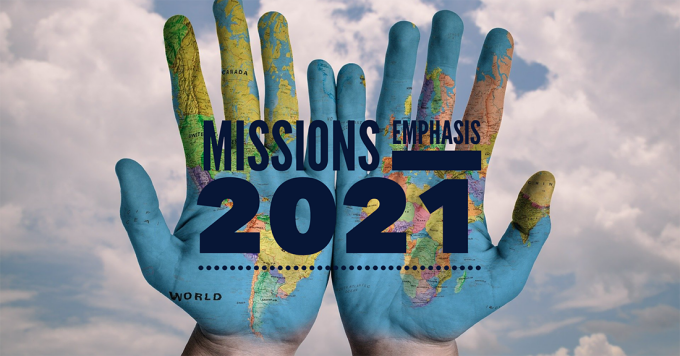 Missions Emphasis 2021
Wow, what a year was 2020! We are indeed grateful to put it behind us and move forward into 2021. Prayer is a powerful tool and was used across the country and around the world as Covid-19 spread like wildfire. Many lives were lost without Christ. We need to remain in prayer for those who have this illness that the Father turn back this disease and would have mercy and heal our land.
Many plans and activities were put on hold for the better part of the year, and we are ready to take action! We need to continue to pray that the Lord use FBC Wentzville and show us what He would have us do.
The book of James is one of my favorite books because it is about faith in action. In chapter two, James tells us that faith without works is dead. So, this year we intend to demonstrate our faith in action. You, too, can be involved by praying, giving, and going—in support of international and domestic missions and disaster relief. That said, it would be disingenuous to say we have made plans for mission trips and not taken into consideration the limitations imposed at local, state, and national levels before going on a mission trip. So first, let us take a look at our work in Disaster Relief.
Despite the pandemic, last October seven were trained to give our church a team of 14 certified to go and support the Missouri Baptist Disaster Relief teams wherever needed. They respond to hurricanes, tornados, floods, and other catastrophic events when called. Training will be offered again April 9-10, at the closest location in recent history, FBC O'Fallon. There will be other training opportunities, but NONE so close to our region. MO Baptists were called out to help for flood response 13 times in 2019, with 11 events here in Missouri.
Today we can assist by filling sand bags and having them ready to go when called up. On February 20, we need volunteers to join us and help fill sandbags and get them on pallets, ready for shipment to the sites when needed. When the floods strike, it is too late. We must prepare and be ready. That will be here at the church at 9AM. If interested, call the church office and leave your name and number so we have an idea of how many volunteers we will have.
Next, the Missouri Baptist convention is seeking churches that are willing to consider partnering with churches in Montana. This spring we will send a small team to examine and survey opportunities in Montana.
Finally, we have been going and working in international partnerships, most recently in Panama, for almost twenty years. While the Covid vaccine is slowly being made available, international travel requires time for quarantine which makes a one-week trip impossible to accomplish. We are still optimistic and have scheduled a tentative return mission trip to Panama, July 31 – August 7. But, we will go only if we are confident that it is safe to do so, and we are not time constrained by the quarantine.
This is our plan for 2021. International, domestic, disaster relief work, bathed in your prayers and your willingness to go and give. We continue to support missionaries around the world through Cooperative Giving Program with thousands of other Southern Baptist Churches. Your continued giving to the Lottie Moon Christmas offering for international missions and the Annie Armstrong offering of North American missions keeps spreading the good news of the gospel. Every missionary I speak to, without exception, says "Thank you" for giving to Lottie Moon or Annie Armstrong because without those offerings, they would not be able to go. They rely on you!