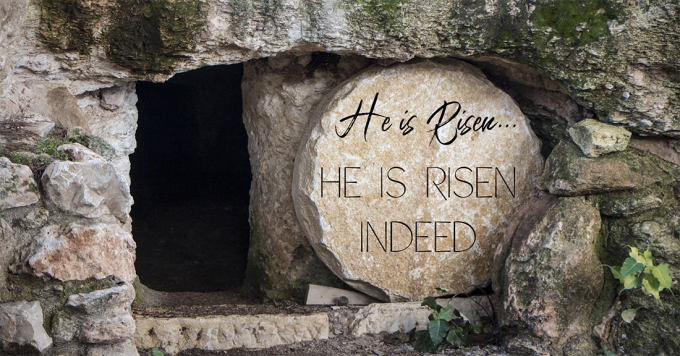 Happy Easter, all! I love this time of year. The Christmas season is always special, but so is the Easter season! We should really be reminded each and every day of all that Jesus Christ did for us on the cross. Easter is just one of those times where we, as a collective church body, get to focus more intensely on the events surrounding Jesus' death on the cross. It's a time to all give thanks for the salvation we have in Christ Jesus!
Everybody wants to be loved. But people often look in the wrong places to find a sense of fulfillment and purpose. Some turn to the world, getting involved with things like drugs and alcohol, partying, etc. Others turn to darker sins, that end up leading them to lives of crime. But like so often is the case, most find those sins don't fulfill them. They wonder what it is they're missing. And often, they find that a relationship with Jesus is what they were missing all along. Accepting His free gift of salvation finally makes them whole.
It's been said that each of us has a God-shaped hole--a place inside of our hearts--that only God can fill. C.S. Lewis even wrote in Mere Christianity: "If I find myself a desire which no experience in this world can satisfy, the most probable explanation is that I was made for another world." Of course, God wants us to enjoy the lives He has given to each of us, on this earth. But the point is that God brings the main fulfillment we each are looking for.
The gospel message is simple. When people go evangelizing, and somebody asks how to accept the salvation of Jesus, the consensus is well-known. It's as easy as A-B-C. A) Admit we are sinners, B) Believe Jesus died for our sins, was buried, and rose 3 days later, and C) Confess Jesus as Lord. Romans 10:9 NASB says: "That is you confess with your mouth Jesus as Lord, and believe in your heart that God raised Him from the dead, you will be saved."
Something noteworthy about the death of Jesus is that, as the only perfect person to ever walk this earth, He died for sinners. And many of those sinners either hated Him or were ungrateful for the life He lived. 1 Peter 2:22, NASB says: "He who committed no sin, nor was any deceit found in His mouth." 1 John 3:5, NASB says: "You know that He appeared in order to take away sins, and in Him, there is no sin." You may find some people who would die for a person who practices good. But how many would die for a person who practices evil? Romans 5:7-8, NASB says: "For one will hardly die for a righteous person; though perhaps for the good person someone would even dare to die. But God demonstrates His own love toward us, in that while we were still sinners, Christ died for us." Easter season is a great reminder of this love Jesus showed for us on the cross.
It's interesting how the Old Testament had many prophecies that ended up coming true. One such prophecy, that foretold the crucifixion of Jesus, is found in Isaiah 53, NASB. Verses 3-4 say the following: "He was despised and abandoned by men. A man of great pain and familiar with sickness; And like one from whom people hide their faces, He was despised, and we had no regard for Him. However, it was our sicknesses that He himself bore, and our pains that He carried; Yet we ourselves assumed that He had been afflicted, struck down by God, and humiliated." Jesus was in fact abandoned by men. Not only did most of the disciples abandon Him, but his closest friends abandoned him. The 12 men He had been training for 3 years were scared when soldiers came to arrest Jesus and fled. But despite them abandoning Him, He never abandoned them, or any of us.
Jesus could have easily decided to leave this planet, go back to heaven, and let mankind suffer the wrath of God with no way to inherit salvation. But Jesus cared so much for us, was so humble, had such humility, and had so much compassion and grace, that He stayed. He suffered. And He died, despite knowing the painful journey that awaited Him. We know in the gospels, when Jesus prayed to God in the Garden of Gethsemane, that Jesus asked that if it would be God's will, that He would remove the cup of upcoming suffering from Him. The stress of his upcoming suffering was so stressful, that when He prayed, he sweat blood. (Luke 22:44, NASB.) But He ultimately wanted God's will. It was ultimately God's plan for Jesus to die for the sins of mankind so that we could live in heaven for eternity with Him. And Jesus willingly did that for us. What obedience and respect for His Father! And what grace towards us!
We all know the story of what Jesus went through for us. Jesus willingly was arrested by the soldiers. He was eventually sentenced to brutal flogging, and then the brutal death on the cross. If it were many of us, and we were sentenced to that cruel punishment for something we didn't do, we would be angry. We would be disgusted at mankind. And if we had God's powers, many of us might even have used those powers to come off the cross and destroy all of the mockers around the area. But what did Jesus say to God, while on the cross? In Luke 23:34, NASB, Jesus says: "Father, forgive them; for they do not know what they are doing."
Jesus paid the price we owed. Paid the debt we could not pay. Isaiah 53:5, NASB says: "But He was pierced for our offenses, He was crushed for our wrongdoings; The punishment for our well-being was laid upon Him, and by His wounds, we are healed." How many of us would have had this compassion and grace for mankind? What a selfless attitude Jesus had! Jesus paid the penalty for our sin and went on to die on that cross. But that wasn't the end!

Three days later, Jesus had victory over death! He was raised from the dead! We see a little more of what happened, in Luke 24:1-9, NASB: "But on the first day of the week, at early dawn, they came to the tomb bringing the spices which they had prepared. And they found the stone rolled away from the tomb, but when they entered, they did not find the body of the Lord Jesus. While they were perplexed about this, behold, two men suddenly stood near them in gleaming clothing; and as the women were terrified and bowed their faces to the ground, the men said to them, 'Why are you seeking the living One among the dead? He is not here, but He has risen. Remember how He spoke to you while He was still in Galilee, saying that the Son of Man must be handed over to sinful men, and be crucified, and on the third day rise from the dead.' And they remembered His words, and returned from the tomb and reported all these things to the eleven, and to all the rest."
Such an amazing miracle! And what a great memory for us all to remember each Easter, and each and every day! It makes me want to sing this song, from a hymn people often sing in churches each Easter Day morning: "Christ the Lord Is Risen Today". The lyrics include:
"Christ the Lord is ris'n today, Alleluia!
Sons of men and angels say, Alleluia!
Raise your joys and triumphs high, Alleluia!
Sing, ye heav'ns, and earth reply, Alleluia!
Love's redeeming work is done, Alleluia!
Fought the fight, the vict'ry won, Alleluia!
Jesus' agony is o'er, Alleluia!
Darkness veils the earth no more, Alleluia!
Lives again our glorious King, Alleluia!
Where, O death, is now thy sting? Alleluia!
Once he died our souls to save, Alleluia!
Where thy victory, O grave? Alleluia!
Praise the Lord! We thank Jesus, for His gift of salvation He gave to us freely! And we honor the memory of the sacrifice He made on the cross to pay for all of our sins! I pray you all have a very blessed Easter celebration, as you gather with family and friends, and celebrate the memory of the sacrifice made by our Lord and Savior, Jesus Christ! Until next time, God bless. And may God's peace go with you!